April 28, 2020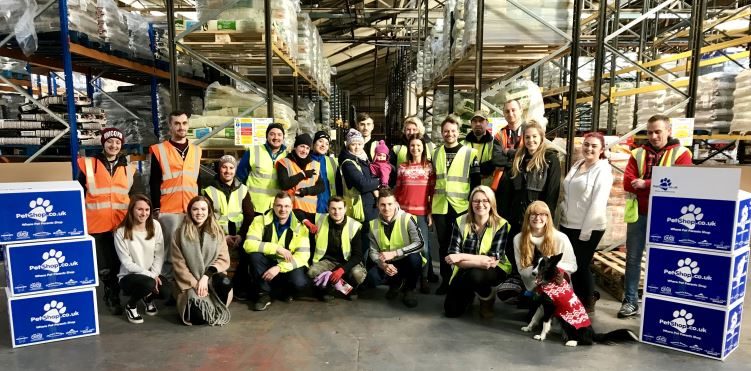 One of the UK's largest online pet stores based in Stratford-upon-Avon has tripled its workforce to cope with a rising demand from animal owners across the UK during Covid-19.
PetShop.co.uk stocks over 10,000 products including top brands like Iams, Felix Cat food, James Wellbeloved & Hills Science Plan dog food from its 40,000 sq ft premises at the Precision Business Park in Masons Road.The Government's lockdown advice in the Coronavirus pandemic has led to a 300 per cent increase in sales mainly from cat and dog owners buying food and having it delivered to their door.
Adam Taylor, who co-founded the business with his wife, Lexi, in 2010, said they had had to adapt their working practices quickly to cope with demand.
"It has been an unprecedented journey and we needed to react quickly to get Pet Parents orders out as quickly as possible, we're receiving orders from all over the UK since we're a nationwide pet food business," he said.
"We've had to very quickly adjust our shifts because previously we had one 12-hour shift and now our warehouse is open 24-7.
"We have taken on three times more people and now employ just under 70 staff in the warehouse as well as our regular ten staff in the office. We made the decision to keep our telephone lines open to help mainly elderly people who don't have access to the internet but the majority of these staff are working from home.
"Pre-Coronavirus luckily with the help of the RDPE Grant we had started to make improvements to the capacity of our business by implementing Oracle Netsuite software and the RF-Smart warehouse solution so we have an entirely cloud system now that our staff can access anywhere so we're robust and agile for people not working in the office."
PetShop.co.uk has invested £164,000 as part of a £400,000 grant from the RPDE Growth Programme which identifies businesses with growth potential who can improve productivity and create full-time jobs.
The company has also received £35,000 from Warwickshire County Council's Growth Fund after adding £125,000 itself to focus on future-proofing the business and investing in software systems.
Adam said there is a great deal of support for SMEs from organisations in Coventry and Warwickshire which was more important than ever.
He said: "This is an horrendous time and Covid-19 has impacted everyone, but there is no question that had we not upscaled our capacity and systems when we did, we would not have been able to service people directly at home.
"The financial support of Warwickshire County Council and the RPDE has been instrumental in taking the business forward and those foundations we had already put in place have, in hindsight, proved vital during this unforeseen pandemic.
"There is a great deal of help and advice available for small businesses in our area and it is more important than ever to take advantage of it.
"From the early days when we set-up the business, the mentoring we received from the Business Ready programme at the University of Warwick Science Park was a massive help as well as the free advice from the Coventry and Warwickshire Local Enterprise Partnership Growth Hub which has contacts in so many places and has really helped us in recent years."
Mark Ryder, Strategic Director for Communities at Warwickshire County Council, said PetShop.co.uk is a perfect example of a business that is reaping the benefits of not standing still.
He said: "PetShop.co.uk continues to go from success to success and its pro-active approach means they have developed a network of contacts to provide expert advice.
"We launched the Warwickshire County Council Growth Fund to provide capital grants to small businesses in our area with growth plans to help to reduce any barriers which may prevent their expansion.
"Their recent success is helping to stimulate our economy by providing jobs for local people and improving productivity and their move to Masons Road three years ago is certainly paying dividends since they have the space to store a large amount of stock which is being snapped up by customers across the UK.
"Obviously they would not have wanted a crisis such as this to stimulate the business but not only are they able to offer jobs to people at a time of uncertainty, they have allowed customers new and old to have deliveries to their door and thus abide by current advice. "