Ricoh Arena, Jimmy Hill Way, Coventry, CV6 6GE
7:30am to 9:30am 11th Sep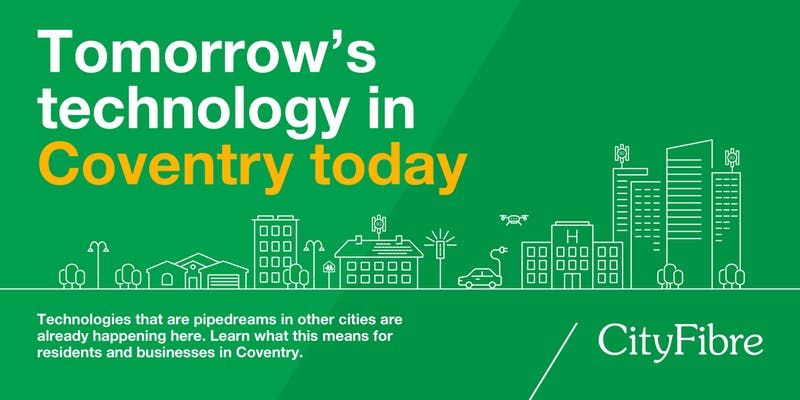 Technologies that are pipedreams in other cities are already happening here. Learn what this means for residents and businesses in Coventry.
Coventry is proud of its industrial heritage and its reputation as the birthplace of the motorcar. What few people are aware of is the role that Coventry is playing in developing the technologies of tomorrow. At this event we will look at revolutionary technologies that are already here or will be going live over the next few months.
From transforming communications, learning and health to how we move around the city (or even interact with it) – at this event you'll find out how Coventry is, once again, leading the way.
The event will be hosted by Leigh Hunt, City Manager at CityFibre, and will begin with a welcome speech from Stuart Cain, Chief Executive at Wasps, before moving onto short presentations from our keynote speakers.
Keynote presentations will include:
The digital future for Coventry – Martin Reeves, CEO, Coventry City Council
Connected Autonomous Vehicles. Coming soon to a road near you – Chris Lane, Head of Transport Innovation, TfWM
5G: What does it mean for me? – Sarah Roberts, 5G Program Manager, Vodafone UK
The Digital City of Culture 2021 – Chenine Bhathena, Creative Director, Coventry City of Culture Trust
How will it all happen? – Greg Mesch, Chief Executive Officer, CityFibre
There'll be an opportunity to network before and after the main presentations with breakfast and refreshments available from 7:30.
Onsite parking is available for a small fee.
This is THE digital event to attend this autumn so don't miss out and register your attendance today.
---
Find out more & book here: https://www.eventbrite.co.uk/e/tomorrows-technology-in-coventry-today-tickets-67043670423