9:30am to 12:30pm 9th Nov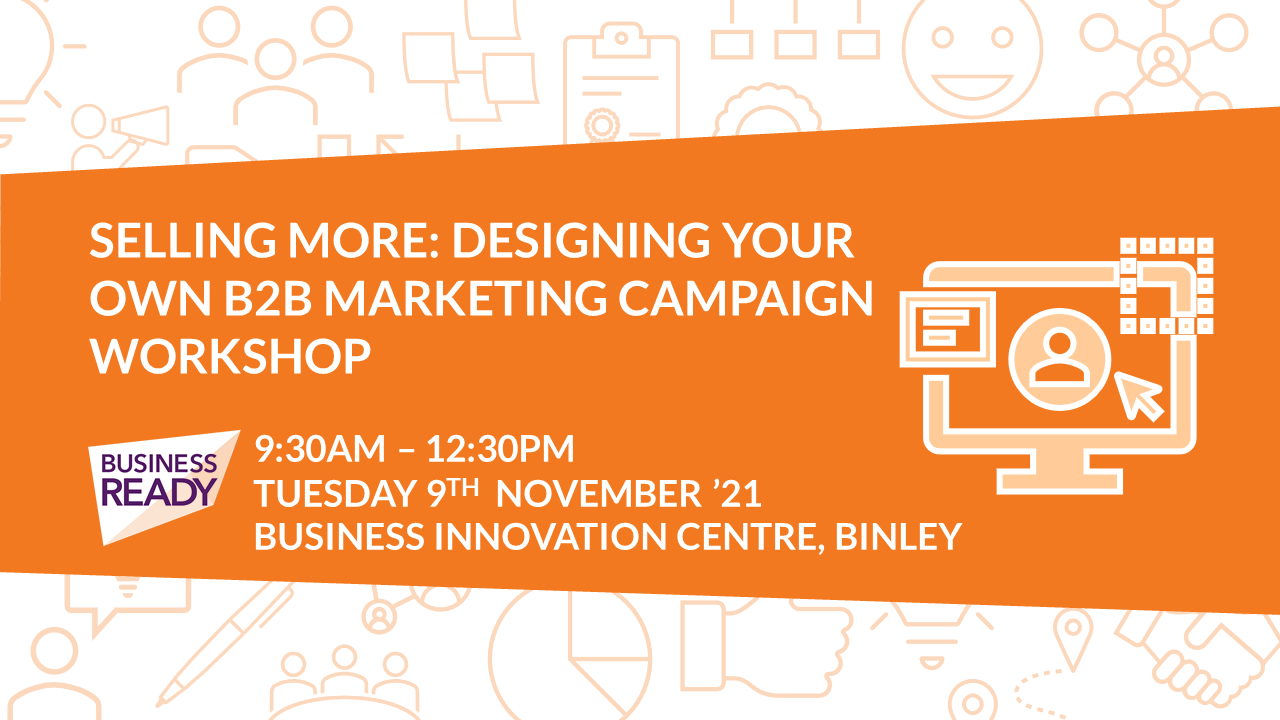 When you want to ramp up sales an effective way to do this is to have a highly targeted marketing campaign and this workshop shows you the process to follow in order to do this.
In this workshop we work through the creative process of designing a campaign. So please come to this workshop with a product or service concept that you'd like to create a campaign for. We will work together through the process during the session. There will be plenty of examples given to provide inspiration.
Please note: this session is not open to marketing agencies.
---
Topic: Selling more – designing your own B2B marketing campaign
Date: Tuesday 9th November 2021
Time: 9:30am – 12:30pm
Location: Online
Register on Eventbrite: https://www.eventbrite.co.uk/e/selling-more-designing-your-own-b2b-marketing-campaign-tickets-186602201207
---
Agenda
Identifying the hook – So let's start off with the fundamentals as you will already have an intimate knowledge of the offering and your customers. We consider the benefits and selling points very much from a customer perspective to cement the unique selling proposition.
The Campaign Concept – This is where we build with our audience an emotional and rational connection. It involves creative thinking – how do we bring the benefits to life in an engaging, attention grabbing way using a relevant advertising appeal? We will consider the implications of different appeals. In this section we start to make connections and bring to life how we could represent what we do differently to create the campaign concept.
Leading Media – Once we have a strong campaign concept, we decide which channel (s) to lead with. It could be an exhibition or printed mailshot or online activities. Other media can be used to support the approach and every touchpoint is consistent in the messaging.
Consolidated communications – In this section we bring it all together with a plan and also consider measures of success. We consider the resource required to fulfil the new leads. We also consider the unintended consequences which can come with a creative marketing campaign and how to capitalise on these.
---
Eligibility
These workshops are delivered as part of the Business Ready programme to support tech based and knowledge intensive small businesses, with high growth potential based in the Coventry & Warwickshire LEP area.
This project is part funded by the European Regional Development Fund, forming part of the CW Business: Start, Grow and Scale Programme.