Online via Zoom
11:00am to 12:00pm 21st Sep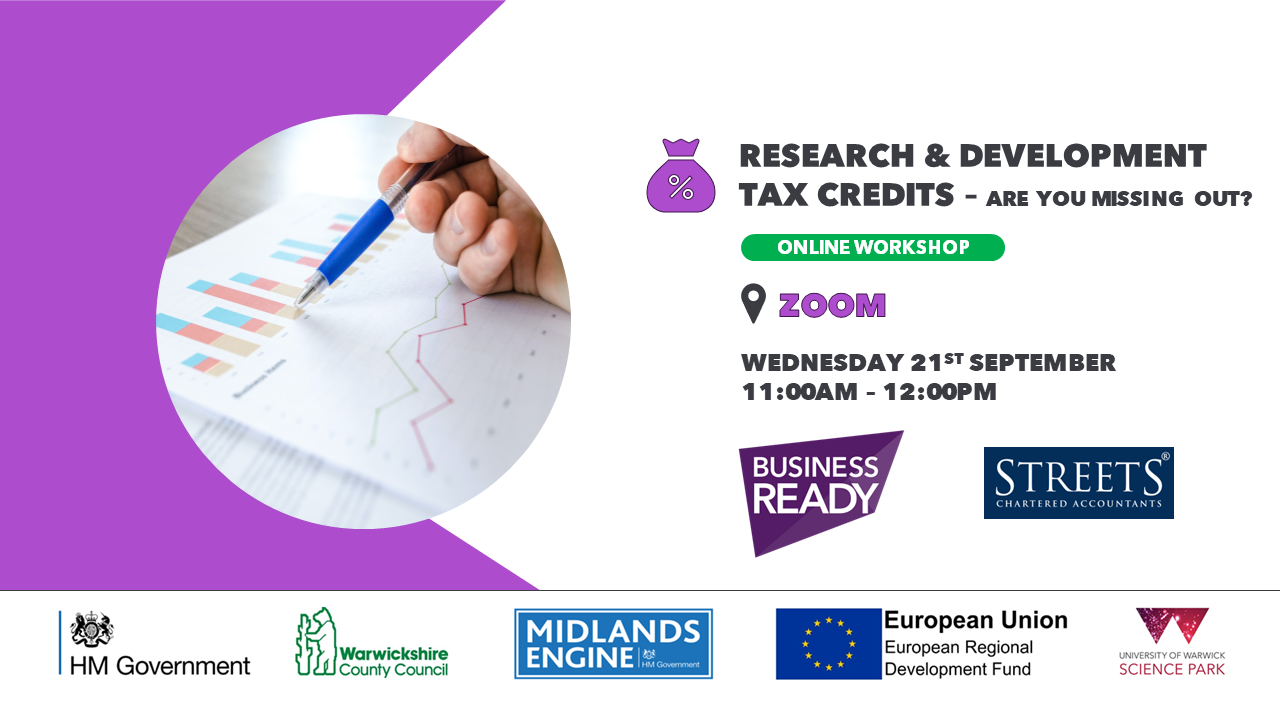 HMRC offer tax incentives to companies which they consider are undertaking qualifying Research & Development (R&D).
A large percentage of eligible businesses are not aware of Research and Development Tax Credits or believe they don't qualify for the scheme.
Many businesses that are already claiming have and will continue to under-claim without the right support.
Join this workshop by Streets Chartered Accountants to find out if you are eligible to claim and how much relief you can get.
Topic: Research and Development Tax Credits
Date: Wednesday 21st September 2022
Time: 11:00am – 12:00pm
Delivery Method: Online via Zoom
Register on Eventbrite: https://www.eventbrite.co.uk/e/research-and-development-tax-credits-are-you-missing-out-tickets-387948292787
Agenda
What is Research and Development Tax relief
What benefit does an R&D claim provide
Eligibility – SME Scheme
Eligibility – RDEC Scheme
How do I make a claim?
Questions and answers
Streets Chartered Accountants are the trusted advisors to entrepreneurial growth tech and pioneering innovation businesses, including those with global potential.
They are specialists in hive-outs, spin outs and innovative new start-ups, supporting clients with specialist tax advice and planning. This includes Patent Box, R&D Tax Credits, Share Schemes, EIS and SEIS, business structures, business angels and equity funding.
Streets work with clients as they move up the growth curve, through funding rounds and ultimately exit, by way of trade sale or other liquidity event. They assist clients in the full range of commercial and assurance issues that they and their stakeholders face.
Eligibility
These workshops are delivered as part of the Business Ready programme to support tech based and knowledge intensive small businesses, with high growth potential based in the Coventry & Warwickshire LEP area.
This project is part funded by the European Regional Development Fund, forming part of the CW Business: Start, Grow and Scale Programme.