Warwick Innovation Centre, Warwick Technology Park, Gallows Hill, Warwick, CV34 6UW
1:00pm to 4:30pm 20th Nov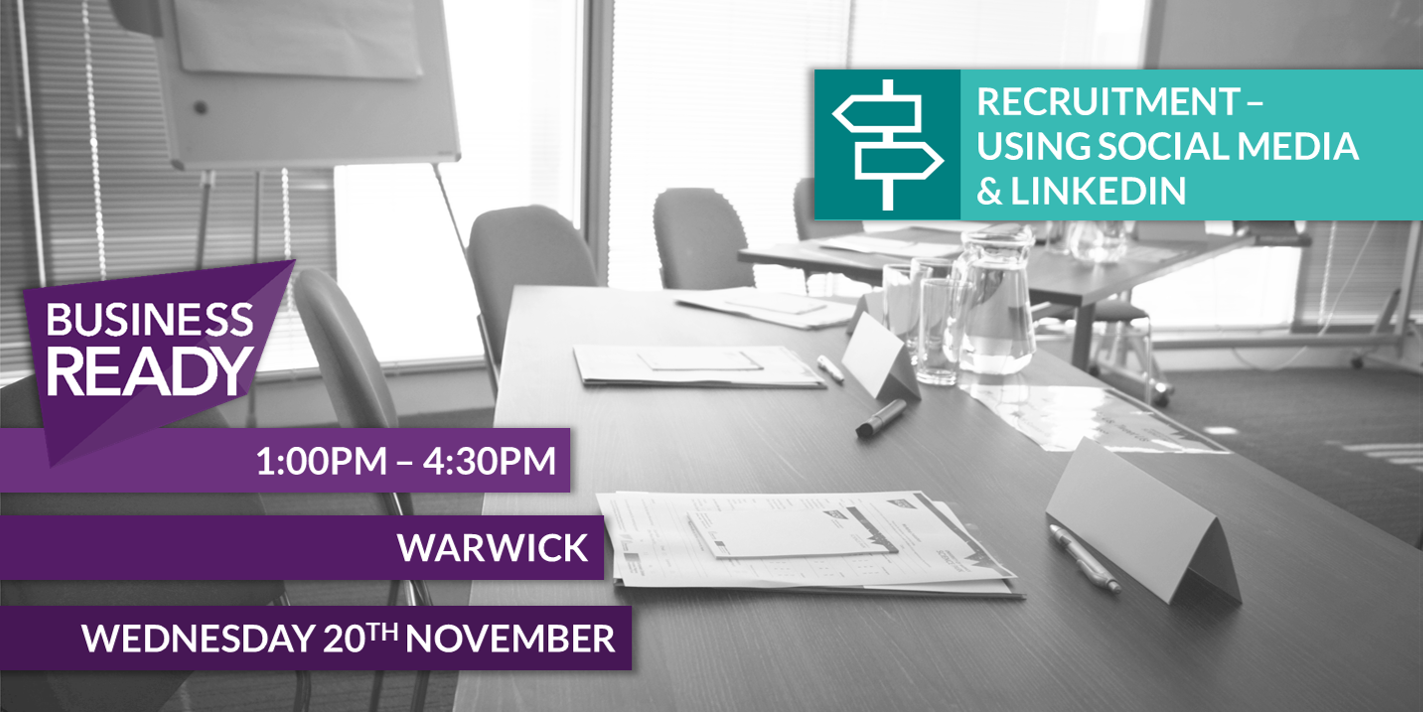 Recruitment is becoming more innovative – so how do you stand out to candidates, and generate the right quantity and quality of applicants to your role?
This workshop will explain how to get your vacancy in front to the right candidates. Tips on how to go about recruiting to ensure you attract and identify the very best candidates, as well as a checklist for managing recruitment.
---
What: Recruitment – Using Social Media and LinkedIn
When: Wednesday 20th November 2019, 1:00pm – 4:30pm
Where: Warwick Innovation Centre, Warwick Technology Park, Gallows Hill, Warwick, CV34 6UW
---
Who is the event aimed at?
This workshop is for every business manager who has responsibility for recruitment, including line managers and admin staff.
---
What will attendees gain?
Three-hour workshops with a high proportion of practical exercises to gain new knowledge and skills through practise. The aim is to learn through role-play, feedback and self-analysis.
Recognition of the importance of recruiting the right people to your business. Understanding of how to manage the recruitment process in an efficient and cost effective way.
---
Agenda
With everything becoming more "digital" you'd be remiss to ignore the potential for digital recruitment platforms, such as LinkedIn – and other cost effective recruitment sites. This workshop will show you:
How LinkedIn is becoming the 'go-to' site for recruiting quality candidates – and how you can tap into the free recruitment tools.
Setting up LinkedIn recruitment and setting criteria, restrictions and profiles.
Creating the right 'digital job specification' – how it differs from the standard 'spec'.
Bums on seats – using tools to find the right candidates.
Setting and maximising your budget of your campaign.
Running your recruitment campaign – managing facilities in LinkedIn (segmenting, shortlisting, rejecting etc.).
What are the other competitive digital recruitment sites you can tap into and promote the role – Indeed/Monster etc.
How to align your digital recruitment campaigns with your HR and recruitment process.
---
Booking
Please sign up using the link below, and feel free to pass this onto internal colleagues and external contacts.
Book on Eventbrite https://www.eventbrite.co.uk/e/recruitment-using-social-media-and-linkedin-tickets-80218482641

---
Eligibility
These workshops are delivered as part of the Business Ready programme to support tech based and knowledge intensive small businesses, with high growth potential based in the Coventry & Warwickshire LEP area.
This project is part funded by the European Regional Development Fund, forming part of the CW Business: Start, Grow and Scale Programme.