Business Innovation Centre, Harry Weston Road, Coventry, CV3 2TX
9:00am to 12:30pm 8th Oct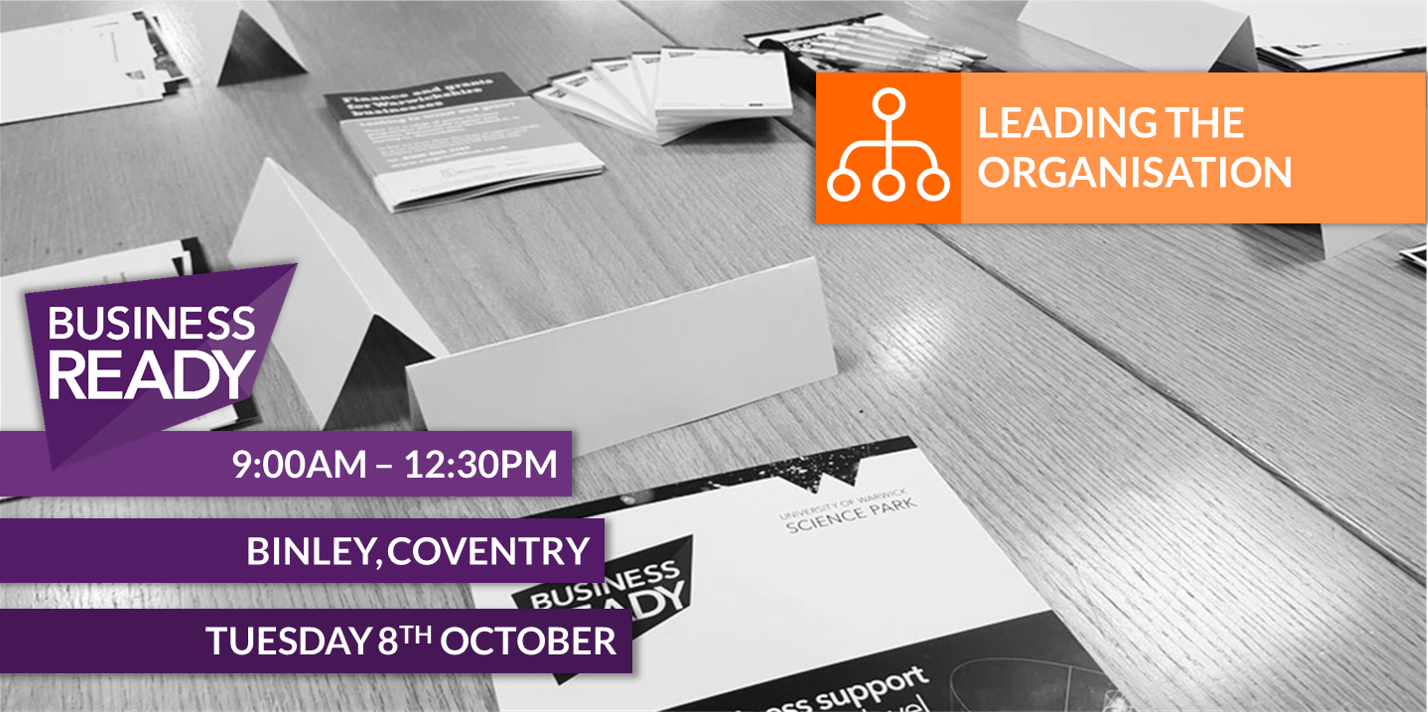 This workshop is for individuals with responsibility for creating a positive organisational culture and ensuring that organisational goals, objectives and strategies are cascaded and aligned with team and individual behaviours.
Organisations are often very good at creating business strategies, financial and technical objectives – and then in cascading these down through to customer facing staff.
However, if vision and mission are not clear to all, and success measures or customer needs are not matched by team and individual behaviours, required outcomes may not be guaranteed.
---
What: Leading the Organisation
When: Tuesday 8th October, 9:00am – 12:30pm
Where: Business Innovation Centre, Harry Weston Road, Binley, Coventry, CV3 2TX
---
The workshop uses a number of structured group activities designed to establish that what the company wants and needs to be successful is supported by the behaviours and actions at the delivery edge of the business – and that the fundamentals of organisational and team effectiveness are in place.
Activities are chosen from these topics:
Clarifying Vision (Vision outlines what the organisation wants to be, a clear long-term view of a future state. It should be emotive, a source of inspiration, engagement and motivation)
Establishing Mission (Mission defines the fundamental purpose of groups aligned to overall business objectives, describing why the group exists, it's added value to customers, stakeholders and the organisation, what makes the group unique, what it needs to do to achieve its vision)
Creating a meaningful RoadMap (How to map the future)
Creating organisational Alignment – using a simple model
Engagement and Motivation – creating and sustaining this for individuals and teams
Leadership – what does this imply for you and the people you lead?
Topics are chosen by participants and explored with examples and clear 'how to do it' descriptions. People then work in small groups to plan how they will implement changes at work.
---
Booking
Please sign up using the link below, and feel free to pass this onto internal colleagues and external contacts.
Book on Eventbrite https://www.eventbrite.co.uk/e/leading-the-organisation-tickets-70603592245

---
Eligibility
These workshops are delivered as part of the Business Ready programme to support tech based and knowledge intensive small businesses, with high growth potential based in the Coventry & Warwickshire LEP area.
This project is part funded by the European Regional Development Fund, forming part of the CW Business: Start, Grow and Scale Programme.