May 3, 2023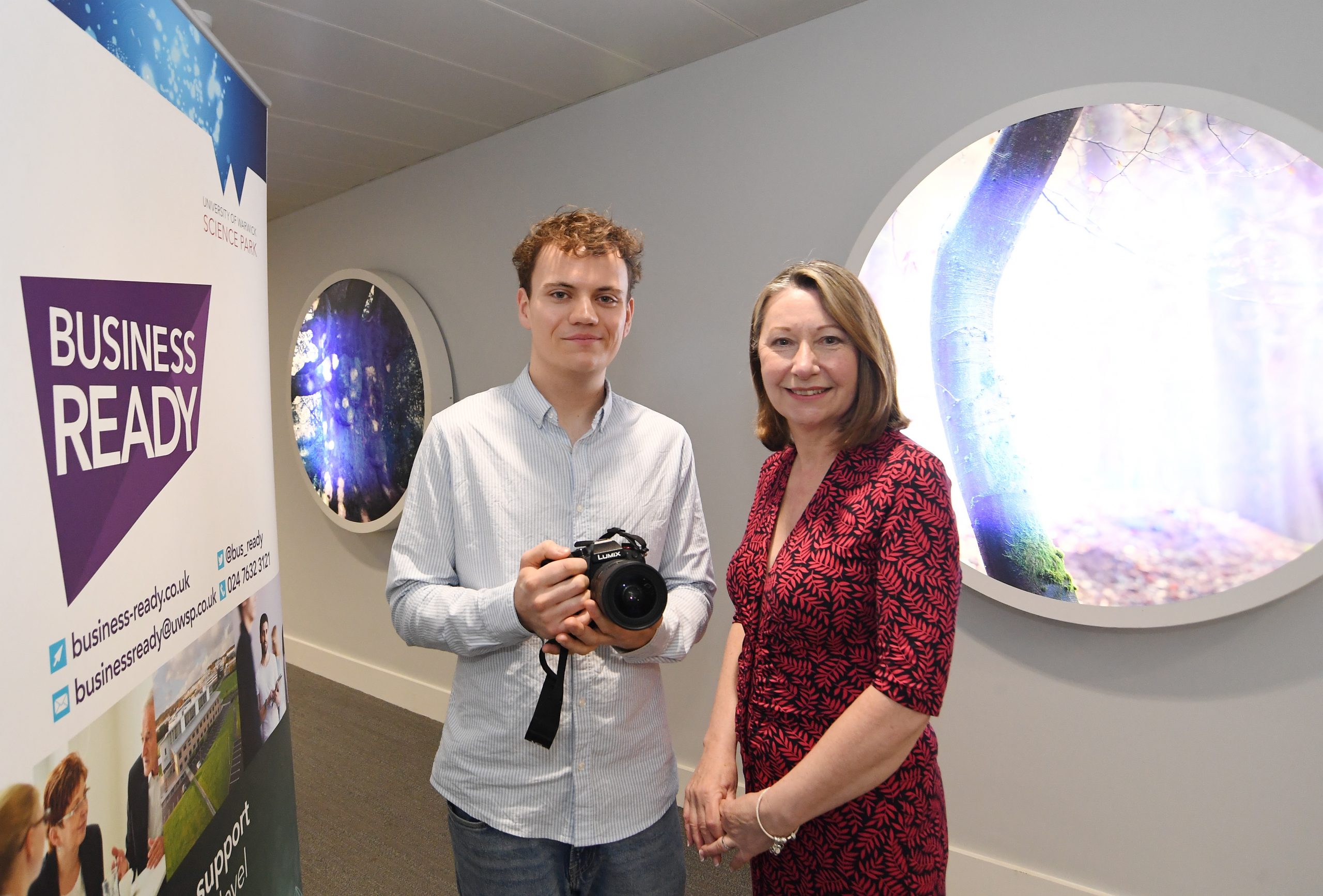 A 20-year-old University of Warwick student has turned his love of videography from a side-hustle to a bona fide business with rapid financial growth.
Pictured: Chris Haywood with Gaynor Matthews
---
Chris Haywood, a second-year Politics and International Relations undergraduate, founded Haywood Media after finding that his video production hobby could make him some money during his studies.
Haywood Media produces a variety of video content for clients, and mainly focuses on short-form videos designed to reach as many people as possible on social media platforms such as TikTok, Instagram and Facebook.
He said: "I've loved being behind a camera from a young age, and as I got older many people I knew were interested in the films I could produce for them.
"This led me to realise I could earn decent money from my hobby, which led me to set up Haywood Media. I had initial success with projects for a vodka company, e-commerce firms, and others.
"I have good knowledge of how social media platforms' algorithms work so I could produce videos that were viewed by lots of users.
"But it was never anything more than a side project to begin with – my work was very much coming in peaks and troughs."
After contacting the University of Warwick's 'Warwick Enterprise' programme, Chris was put in touch Gaynor Matthews of business support programme Business Ready.
Business Ready delivers support to expanding companies managed by the business support team at the University of Warwick Science Park, and is funded by the European Regional Development Fund and Warwickshire County Council as part of the CW Business: Start, Grow & Scale Programme.
Gaynor helped Chris refine his business to focus on quality, not quantity, to help him keep clients on with a retainer, as well as detailing what is involved in running a business.
"She talked me through all of the little things, such as drawing up contracts, how to process payments, and helping manage expectations of clients," Chris added.
"I'm more of a creative and I'd had no experience of that side of things, so her insights were incredibly useful.
"But the biggest thing Business Ready was able to do was improve my network. Previously I'd only really had my friends' and family's connections to rely on, which wasn't bad to earn a bit of money during my studies as a freelancer, but not to base a whole business on.
"Through Business Ready, I was put in touch with beauty business, Counter Culture, and we spoke about the services I could offer them and how it could grow their profile.
"The talks went well and Counter Culture became my first retained client, which has resulted in a sustainable business model with substantial income. There are also plenty of other businesses who I'm in positive talks with too.
"I'm now seeing Haywood Media as a viable option for me after I graduate, which I never thought would be the case when I founded it. I have Business Ready's guidance to thank for that."
Gaynor said: "Chris was clearly a very skilled videographer when he came to Business Ready, but the key for him was to make his offer attractive enough to keep clients on instead of constantly doing ad-hoc work.
"We're delighted his meeting with Counter Culture resulted in a retainer for Chris, and we hope it's a stepping stone for him to grow his business even further.
"Business Ready can help up and coming businesses like Haywood Media get the support they need to move forward, so we'd encourage anyone interested in growing their business to get in touch."
WCC Business Growth & Support Programme Manager, Gillian Dale said: "I am delighted that Haywood Media is helping Chris to turn his lifelong passion into a vibrant business. Chris is exactly the sort of talented young entrepreneur that Business Ready, with its team of highly experienced and expert advisors, is designed to help move to the next level."
Notes to editors
The project is receiving up to £3.6 million of funding from the England European Regional Development Fund as part of the European Structural and Investment Funds Growth Programme 2014-2020. The Department for Levelling Up, Housing and Communities (and in London the intermediate body Greater London Authority) is the Managing Authority for European Regional Development Fund. Established by the European Union, the European Regional Development Fund helps local areas stimulate their economic development by investing in projects which will support innovation, businesses, create jobs and local community regenerations.  For more information visit https://www.gov.uk/european-growth-funding.
For more information on the Business Ready programme and how to apply, please contact us at:
Phone: 024 7632 3121
Email: businessready@uwsp.co.uk
Website: www.business-ready.co.uk