March 20, 2023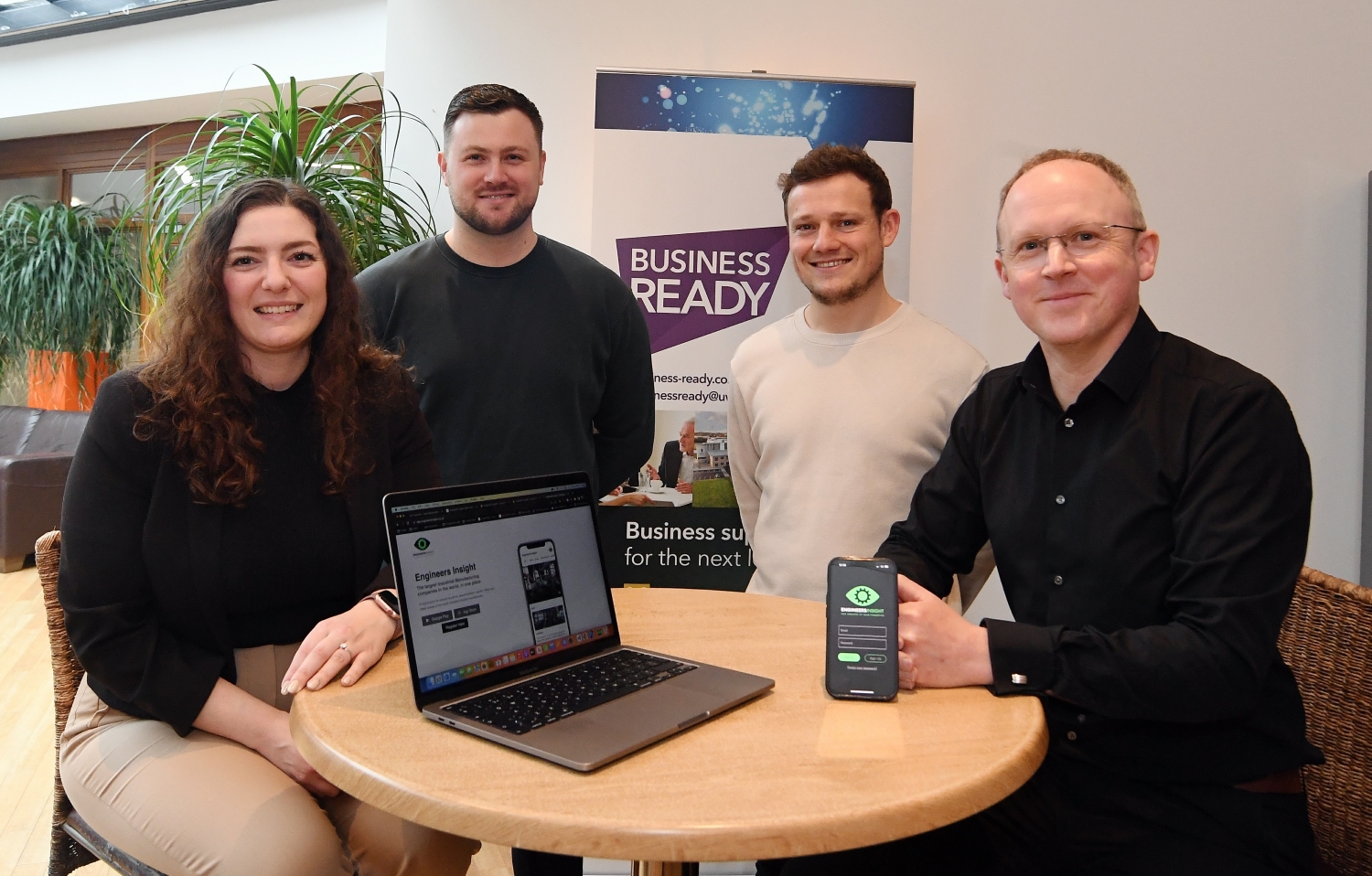 Two school friends from north Warwickshire have combined their knowledge and skills to develop a new app that could revolutionise how products are launched in the engineering industry.
Pictured (left to right): Hayley Lineker (Warwickshire County Council), Tom Flude, Corey Faulconbridge (both Engineers Insight), Steve Tipson (Business Ready)
---
Tom Flude and Corey Faulconbridge both attended Nicholas Chamberlaine School in Bedworth but followed different career paths – with Tom going into engineering and Corey moving into digital technology.
It was during Tom's time with Yaskawa, a global leader in robotics and motion control, that he spotted a major gap in the market that he believed needed to be filled with a new business.
It centred around the launch of new products which Tom believed could be taken to market more efficiently, using mobile app technology, rather than print, giving real time analytics to the manufacturer.
He approached Corey to see if he could develop a mobile app to speed up the process and started the long road of building the app in his spare time. It has taken almost three years of constant development and improvement to get to a point where Tom left his job to pursue the business in November 2022.
After three years of putting together the framework for the app, it is now going through its final stages of beta testing before it is launched – with some added features that have been developed along the way thanks to feedback from the industry.
The pair have also been taking advice from Steve Tipson, of Business Ready.
Business Ready delivers support to expanding companies managed by the business support team at the University of Warwick Science Park, and is funded by the European Regional Development Fund and Warwickshire County Council as part of the CW Business: Start, Grow & Scale Programme.
Tom said: "I worked for several years in engineering, and I found the way new products were launched to be extremely frustrating and outdated.
"Huge businesses, turning over billions of pounds, were solely reliant on printed magazines to get the message out there that a new product was available. Of course, there is a place for magazines to help publicise a product, but it shouldn't be the only way for businesses to launch something new to market.
"I believed an app was the best way to go, to get potential customers downloading it so they could be kept up to date with new products that were coming to market.
"In undertaking the market research, it became clear that there was also no way for companies to be kept up to date if parts had become obsolete or changed or anywhere for manuals to be stored. This is something we are already working on.
"It has been great working with Corey and we are now both fully immersed in the business, and we've also had great support from Steve Tipson at Business Ready.
"When we initially spoke to him, he couldn't believe that there wasn't something like it already on the market! That was the feedback we got from most people and once they can see there isn't anything else like it, they can see the potential for Engineers Insight as a business.
"We are two first-time founders so Steve has been great at talking through some of the basics of being in business. He's straight-talking too, so when we meet he's very good at asking all the right questions to make sure we are on track.
"It has been great to have him in our corner and to have someone with his experience giving us advice."
Steve said: "I have enjoyed working with Tom and Corey at Engineers Insight. There is great potential for the business and, once launched, it could be scaled very quickly.
"The company is a great example of entrepreneurs bringing forward an exciting, new idea but just needing support in those areas of businesses that they would never have experience before – and that's where Business Ready can be of help."
Warwickshire County Council's Portfolio Holder for Economy & Place, Cllr Martin Watson, said: "I am delighted that support from the Business Ready programme has proved so valuable to Tom and Corey. Their talent is typical of the acumen that makes Warwickshire such a renowned home of innovation and it's inspiring to see that they have such determination to turn that talent into a successful business."
Find out what other support is available to your business by calling Coventry and Warwickshire Growth Hub on 0300 060 3747 or visit the Coventry and Warwickshire Growth Hub website.
Notes to editors
The project is receiving up to £3.6 million of funding from the England European Regional Development Fund as part of the European Structural and Investment Funds Growth Programme 2014-2020. The Department for Levelling Up, Housing and Communities (and in London the intermediate body Greater London Authority) is the Managing Authority for European Regional Development Fund. Established by the European Union, the European Regional Development Fund helps local areas stimulate their economic development by investing in projects which will support innovation, businesses, create jobs and local community regenerations.  For more information visit https://www.gov.uk/european-growth-funding.
For more information on the Business Ready programme and how to apply, please contact us at:
Phone: 024 7632 3121
Email: businessready@uwsp.co.uk
Website: www.business-ready.co.uk