February 22, 2023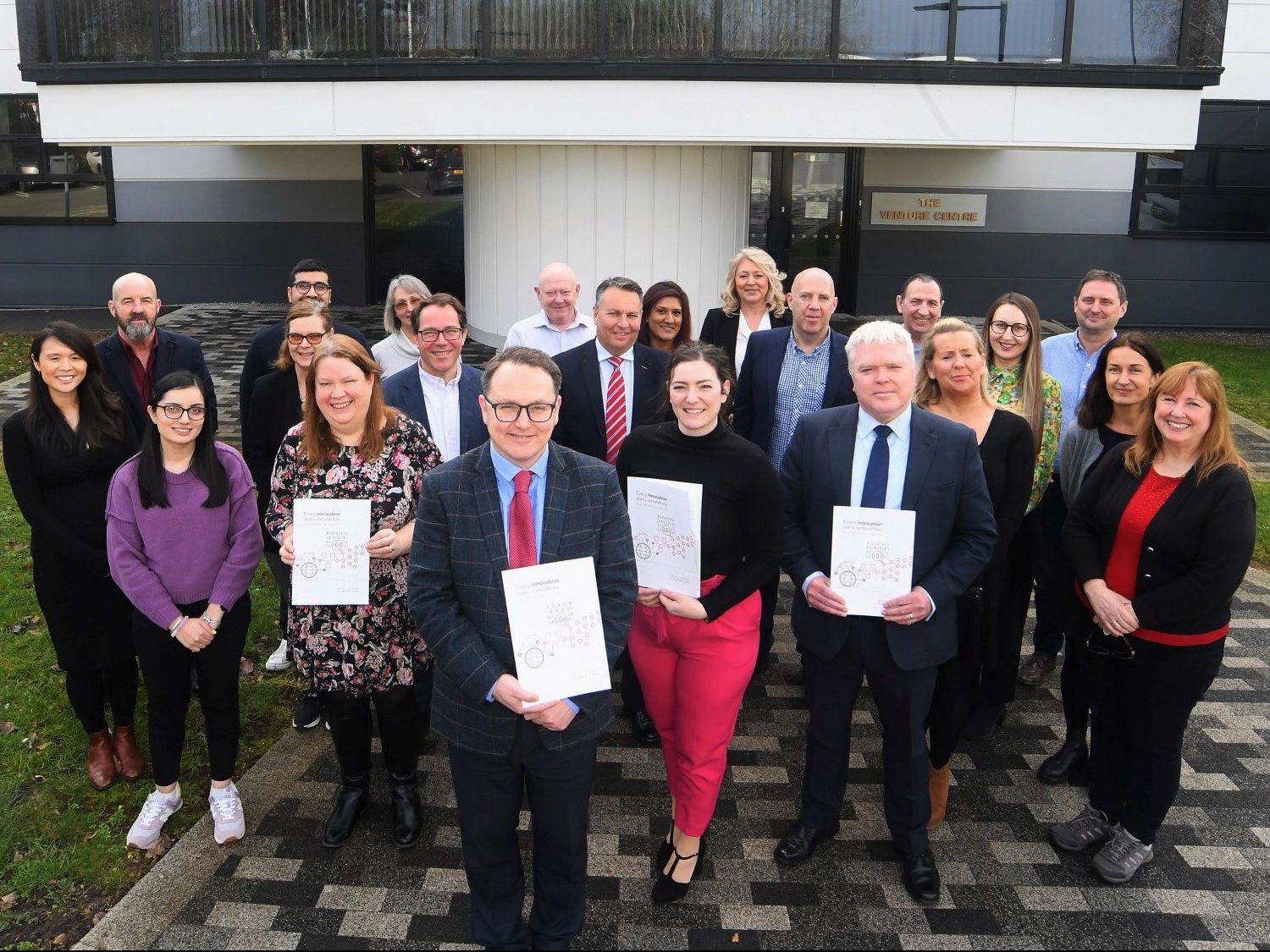 The positive economic impact of a Midlands science park – including the raising of nearly £6 million in finance for businesses – has been revealed in a new report.
Pictured: The UWSP team with representatives from WCC, CWLEP, CWGH and CWCC
---
The University of Warwick Science Park has published its impact report for 2021/22, which details how many businesses it has supported, how much finance it has helped to raise and how many companies call the science park home.
At the time of publication, the science park community included 129 tenants across its sites on the main university campus and its innovation centres in Warwick, Blythe Valley and Binley (Coventry).
It offers a mix of office, workshop and lab space in various sizes to help support technical and science-based businesses in the region. During the period of the report, 12 per cent of companies grew enough to require additional space at the science park.
It also supported 14 businesses within its Ignite incubator space, which offers flexible, low-cost terms to help start-ups to get off the ground.
Overall, 107 start-ups were supported by the Ignite programme, which included tailored help through mentoring and coaching, networking opportunities and workshops.
Beyond start-ups, 729 companies were given help by the business support team at the University of Warwick Science Park, including everything from taking a new product to market through to helping to access the skills required for business growth and pitching for or raising equity finance.
Through its direct relationship with the University, it has supported 246 students through workshops and has offered mentoring to 48 start-up student businesses. Five spin outs from the University have also been supported through engagement, advice and workshops among other services.
The University of Warwick Science Park has also excelled when it comes to helping firms raise finance, totalling £5.96 million from sources such as its Minerva Business Angel Network including accessing grants and other funding regionally by its Business Ready programme.
The report also highlights success stories of tenants based at the science park – such as Queen's Award winner Embed – through to Global Nano Network which was helped by the Business Ready programme to develop environmentally friendly battery components.
Mark Tock, who joined the University of Warwick Science Park as chief operating officer last summer, said: "There's no doubt that 2022 was a year of continued change and challenge, but both come with opportunity and the impetus of creativity that often drives business growth.
"Nowhere is this more evident than within the innovation communities that are supported by the University of Warwick Science Park.
"It is great that we have been able to support so many businesses in so many different ways and, excitingly, we will soon be ready to begin our next phase of growth in the West Midlands and I'm looking forward to working with our team, University of Warwick colleagues, and our existing business community to make this happen."
Corin Crane, Chief Executive of the Coventry and Warwickshire Chamber of Commerce, said: "It's fantastic to see just how many incredible businesses and individuals have been supported in their journeys by the Science Park.
"The impact report shows just how vital the Science Park is to not only its tenants, but external companies seeking support too. There is also a great opportunity for partners across Coventry & Warwickshire to help these amazing businesses scale up and create jobs for people across the area."
Craig Humphrey, Managing Director of the Coventry and Warwickshire Local Enterprise Partnership (CWLEP) Growth Hub, said: "The University of Warwick Science Park is playing such an important role in helping start-ups, businesses and students at the cutting-edge of innovation thrive.
"Mark and the team are doing a superb job, and we look forward to working with them and seeing even more success in the future."
Cllr Martin Watson, portfolio holder for economy at WCC, said: "It's tremendous news that the UWSP has prospered and has nurtured so many businesses.
"Many of these have received Business Ready support which is funded by WCC, ERDF and UWSP to help businesses to gain access to the expertise that will help them take the next step.
"The impetus they are giving to the economy and the creation of jobs in the low carbon field is very much in line with the county's priorities for Warwickshire. The success story of the UWSP really vindicates our commitment."
View the latest 2021/22 impact report here.
For more information on the Business Ready programme and how to apply, please contact us at:
Phone: 024 7632 3121
Email: businessready@uwsp.co.uk
Website: www.business-ready.co.uk