July 19, 2022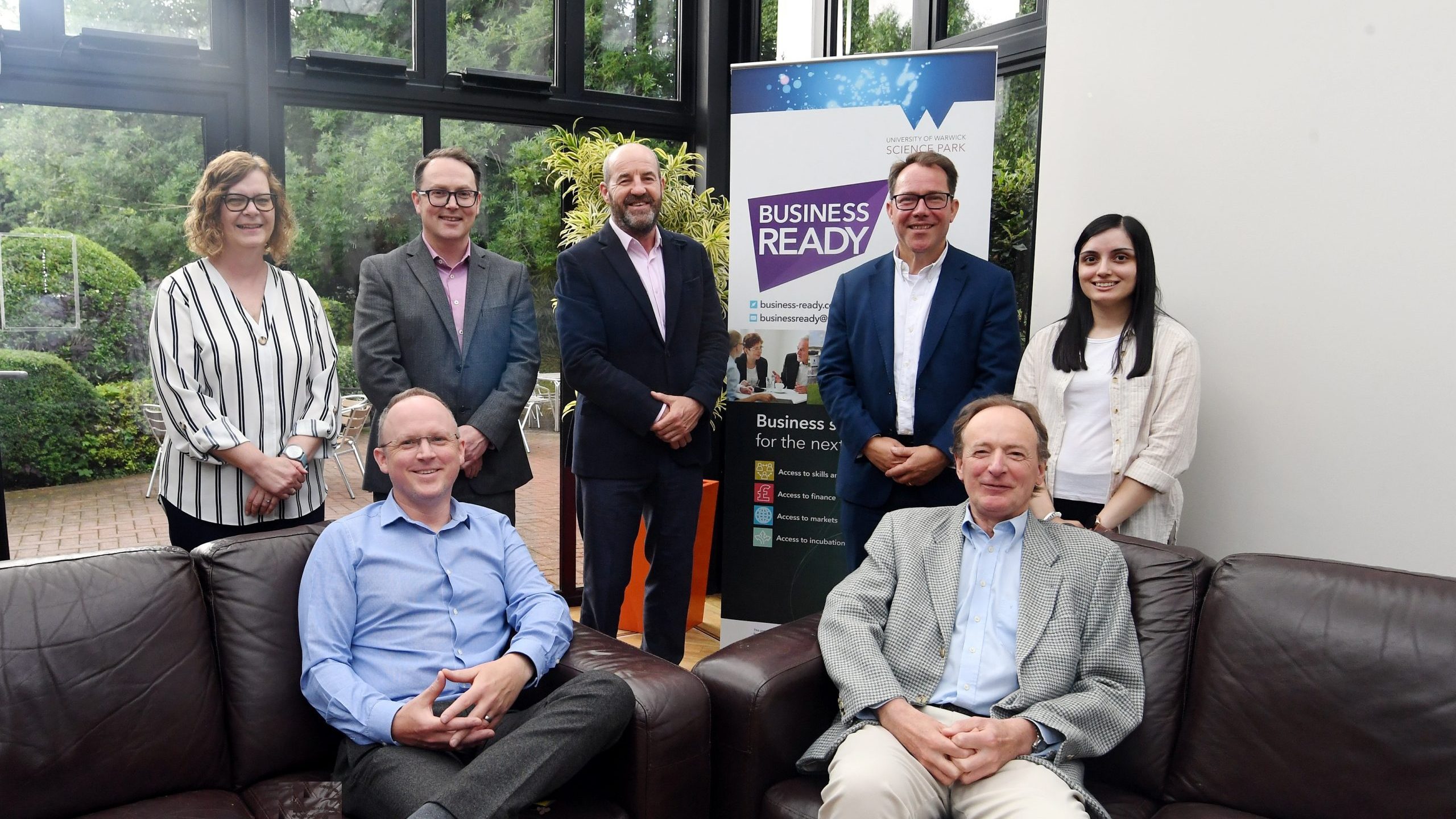 Businesses in Coventry and Warwickshire that have plans for growth can benefit from the expertise of two new advisers who have joined a programme that supports firms in the region.
Pictured (left to right) – seated are Steve Tipson and Rod Roberts-Dear with Carol Bull, Mark Tock, Ian McFarlane-Toms, Dirk Schafer and Amandeep Sangha (all of the University of Warwick Science Park) at the back
---
Rod Roberts-Dear and Steve Tipson have joined the Business Ready team as advisers and will draw upon their years of experience across a range of sectors to help companies across the city and the county achieve their potential.
Business Ready delivers support to expanding businesses managed by the business support team at the?University of Warwick Science Park and is funded by the European Regional Development Fund and Warwickshire County Council as part of the CW Business: Start, Grow & Scale Programme.
It works with tech-based firms that need support to develop and grow their business, as well as access to finance, access to skills, access to new markets and access to incubation space.
Steve has been a serial entrepreneur since he left Lancaster University at the age of 21 when he founded the first web design business to appear in the Yellow Pages.
His most recent venture was sold in 2020 and he will offer a range of expertise, particularly around digital marketing, to help businesses to grow.
Rod spent the early part of his career working for large corporations and had a long spell in the automotive sector.
He worked overseas in a range of places – from Europe to Asia – and, since 2005, has provided coaching and consultancy services across several sectors including construction, manufacturing and automotive.
Steve said: "I ran my most recent business for 12 years before we sold and, in that period, I've consulted with more than 500 companies.
"So, when I'm working with businesses now, I will recognise the fact that they are all different but, equally, I will have seen the challenges, the issues and all the opportunities before in some shape or form.
"I love meeting businesses and looking at their ideas and seeing how I can help them to grow. That's ultimately what Business Ready is all about."
Rod said: "I met Ian McFarlane-Toms, who runs Business Ready, at a business show and we got talking and he mentioned this opportunity which sounded really interesting to me.
"Meeting and talking to the owners of SMEs is something I really enjoy and for the past ten years I've been supporting firms as both coach and manager. I know exactly where they are coming from and what they need to achieve their ambitions.
"It's exciting to be able to work with so many companies and to help them grow."
Ian McFarlane-Toms, programme manager at Business Ready, said: "We are thrilled to have Steve and Rod on board with Business Ready.
"They bring a wealth of expertise and experience in many different sectors that will be passed on to businesses across Coventry and Warwickshire through the programme."
Companies that would like to find out more about Business Ready should go to https://business-ready.co.uk/
Notes to Editor
The project is receiving up to £3.6 Million of funding from the England European Regional Development Fund as part of the European Structural and Investment Funds Growth Programme 2014-2020.  The Department for Levelling Up, Housing and Communities (and in London the intermediate body Greater London Authority) is the Managing Authority for European Regional Development Fund. Established by the European Union, the European Regional Development Fund helps local areas stimulate their economic development by investing in projects which will support innovation, businesses, create jobs and local community regenerations.  For more information visit https://www.gov.uk/european-growth-funding.
For more information on the Business Ready programme and how to apply, please contact us at:
Phone: 024 7632 3121
Email: businessready@uwsp.co.uk
Website: www.business-ready.co.uk