March 3, 2021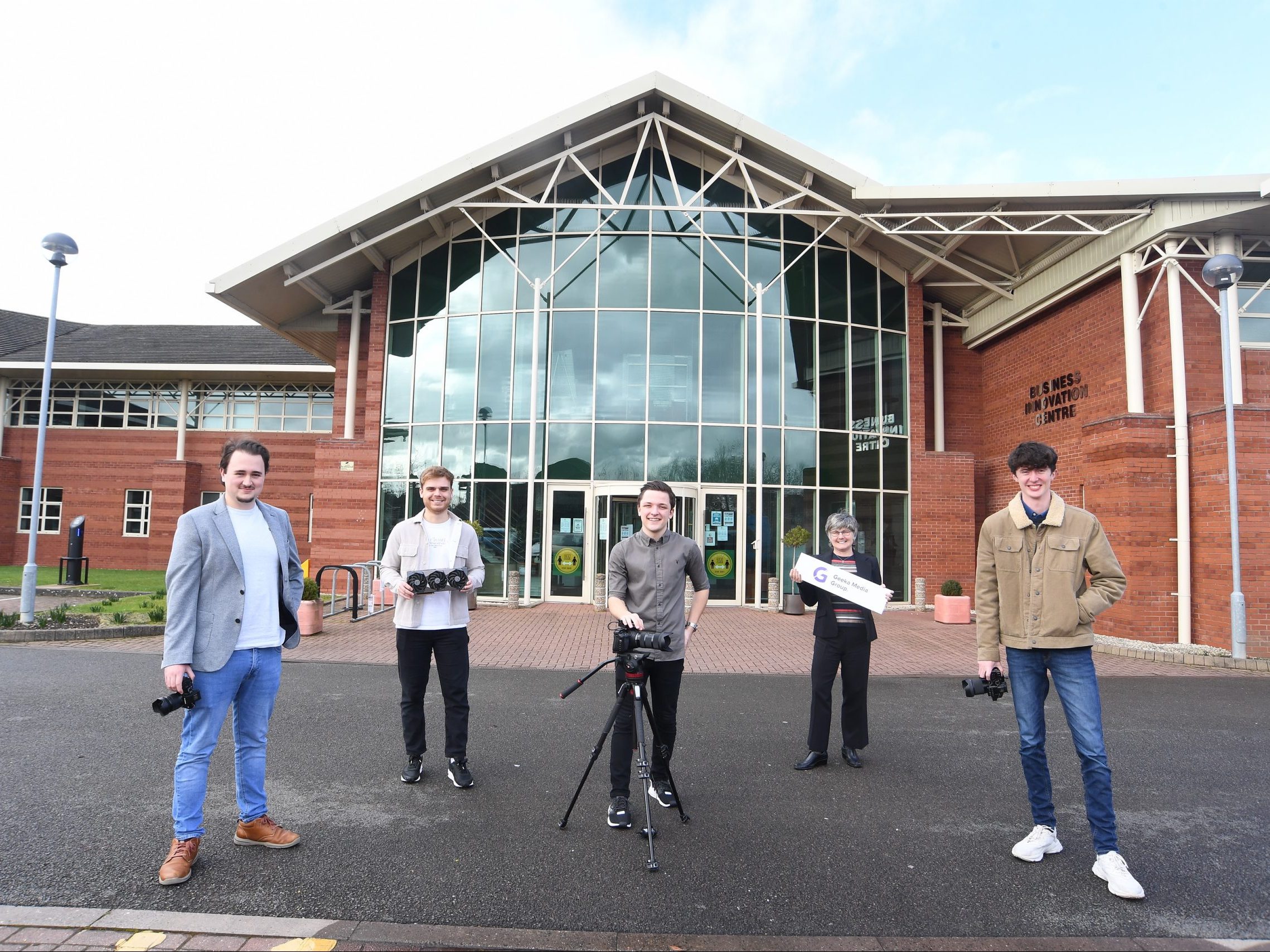 A media business in Coventry, run by a teenage entrepreneur, has expanded into bigger offices after taking on three new team members and diversifying into new markets.
Pictured (left to right): Jake Griffin, Harry Coleman, James Cousins, Penny Robb, Dan Maxwell
---
Geeka Media was set up as a YouTube channel by James Cousins, now 19, when he was a 12-year-old pupil at Caludon Castle.
The company started to carve out a niche in creating online tech videos and social media content for clients such as Intel, Samsung and ASUS and last year took office space at the Business Innovation Centre in Binley.
James has since hired two video editors – Jake Griffin and Daniel Maxwell – and Harry Coleman to test tech products and also as an account manager for Geeka's corporate clients.
It has led to the business more than doubling its office size and investing close to £10,000 in a new studio and editing facility.
The company has grown from 150,000 online views per month to more than one million and turnover is set to grow by 300 per cent in the year that the firm has been based at the Business Innovation Centre.
Turnover has increased due to a range of factors including the creation of more content, partnerships with new clients such as Ebuyer.com, affiliate retail, increased revenue from Youtube advertising and James branching out into hosting and presenting opportunities on tech and gaming.
Geeka is now investing in the creation of a website and could increase headcount again once Covid-19 restrictions are lifted.
James said: "The growth over the past six months has been amazing and we are delighted that we have been able to expand into new offices here at the Business Innovation Centre.
"Taking on new staff was obviously a big step but it was my ambition to grow and, with the level of new work coming in, I needed to bring people in.
"Jake, Dan and Harry have all been great additions to the team and it's given us the chance to explore new opportunities and for me to able to add services such as presenting and hosting for other channels.
"We are now in the process of creating a website and looking at ways we can branch out into different kinds of content. There are lots of opportunities and we are focussed on continuing to expand."
Dirk Schafer, Business Growth Advisor at the University of Warwick Science Park, has been supporting the company with its plans for growth.
James added: "One of Dirk's messages to us has been to be even more bold and more ambitious. If I set a turnover figure that we want to achieve, Dirk encourages us to aim even higher!"
Penny Robb, the centre manager at the University of Warwick Science Park's Business Innovation Centre, said: "We are so pleased to see James and the team at Geeka Media growing and we are doing all we can to support that expansion.
"It's great to be able to work with Geeka and facilitate their expansion plans with additional office space within the centre and providing this flexibility is one of the many benefits of being at the Science Park.
"Working alongside our business support services we can bring further benefits and support to businesses where needed.
"These are very exciting times for Geeka Media and it's a great success story for the company and for the city."