February 17, 2021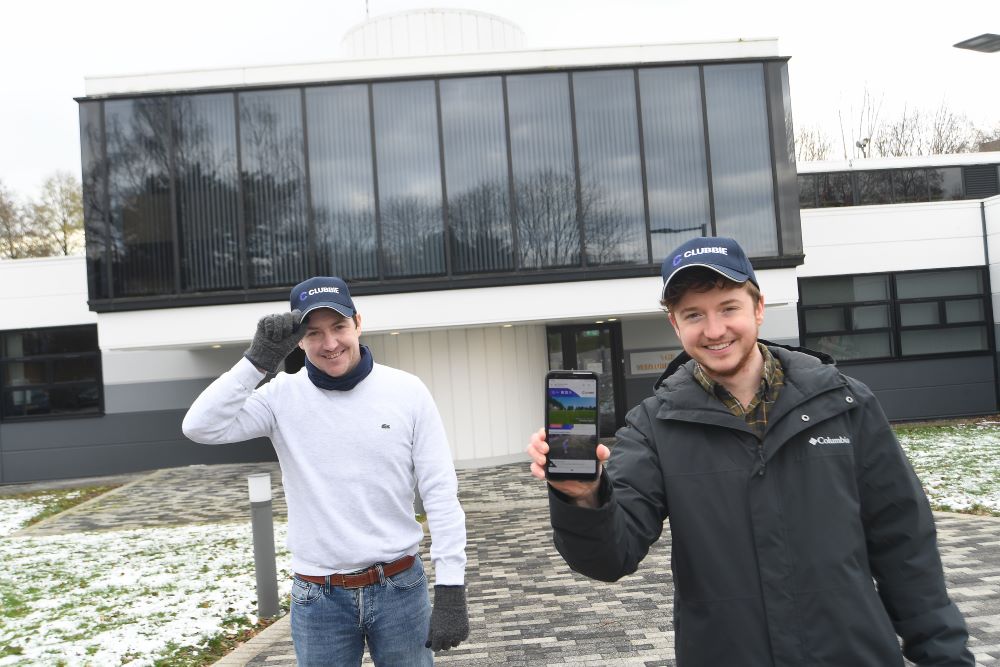 Two Warwickshire entrepreneurs are planning to make the lives of amateur sports coaches easier with the development of a revolutionary new app – which already has buy-in from the Football Association.
Pictured: Chris White (left) with Joe Wheatley
---
Clubbie was created in 2016 by Rugby businessman Chris White as a social media platform for sports clubs and individuals to share video highlights and has grown to have 4,000 clubs on its database.
Meanwhile, entrepreneur Joe Wheatley had set up and was running amateur football team Shottery United and had started to develop an app called Club Bubble to look after some of the many administrative processes involved in running a team – from checking player availability through to buying kit.
Gaynor Matthews, a Business Ready adviser, was mentoring both Joe and Chris separately but when she saw the synergy between the two individuals, she recommended that they meet and look at working together.
Business Ready is a programme that delivers support to expanding businesses which is managed by the business support team at the University of Warwick Science Park, and is funded by the European Regional Development Fund and Warwickshire County Council as part of the CW Business: Start, Grow & Scale Programme.
The two have now joined forces under the Clubbie brand and Chris has given Joe the backing to get a new app created by experienced programmers and developers, which is set to launch in May.
"Clubbie was built on the fact that lots of amateur sports clubs now have very good recording equipment," Joe said. "It created a space for teams to build a network and share some of the highlights and it was growing.
"The Coronavirus crisis saw most amateur sporting activity cancelled and then only return for a short period of time before being cancelled again.
"Chris was looking at ways that he could maintain engagement with the platform and I was just in the process of creating Club Bubble, which was aimed at the same market and audience."
The new app offers a range of features including the payment of fees, the ability to purchase kit, check availability for fixtures and even show team selection and formation for football clubs.
The company has been in discussion with the Football Association with the potential of fixtures being directly added to a coach's Clubbie app so they don't have to manually upload those fixtures.
It will also offer up-to-the-minute statistics such as top scorers, league tables, highest assists and match reports. It will then be rolled out to other sports.
Joe said: "From my own experience and from what other coaches tell me, they have so much admin to do and it would make life much, much easier if this could all be done in one place as they find themselves having to access various websites and different apps to get everything done.
"We've had very good feedback from the FA in our early discussions so we will begin with football and then move onto other sports very quickly.
"We believe the app will be seen as a real support for amateur sports participants and by attracting them to Clubbie with the convenience of what we offer, they will then follow that by using the engaging social media platform to upload and view videos.
"It's thanks to Gaynor at Business Ready that we were brought together and she is continuing to support us, including helping apply for grant funding to accelerate the pace at which we can grow."
The company is also looking to attract further investment in order to be able to speed up its growth.
Gaynor said: "I could see that both Joe and Chris had great passion for their ideas and the drive and energy to make them successful, but it was also clear that the two could be even stronger if they were working in tandem.
"I introduced them and it has led to the development of the Clubbie app which has real potential. I'm now working with them on potentially accessing grant funding as well as supporting their efforts to secure further investment which would allow them to grow even quicker."
Notes to editors:
The CW Business: Start, Grow and Scale project is receiving up to £2.6m of funding from the England European Regional Development Fund as part of the European Structural and Investment Funds Growth Programme 2014-2020. The Ministry of Housing, Communities and Local Government (and in London the intermediate body Greater London Authority) is the Managing Authority for European Regional Development Fund. Established by the European Union, the European Regional Development Fund helps local areas stimulate their economic development by investing in projects which will support innovation, businesses, create jobs and local community regenerations. For more information visit https://www.gov.uk/european-growth-funding