September 2, 2020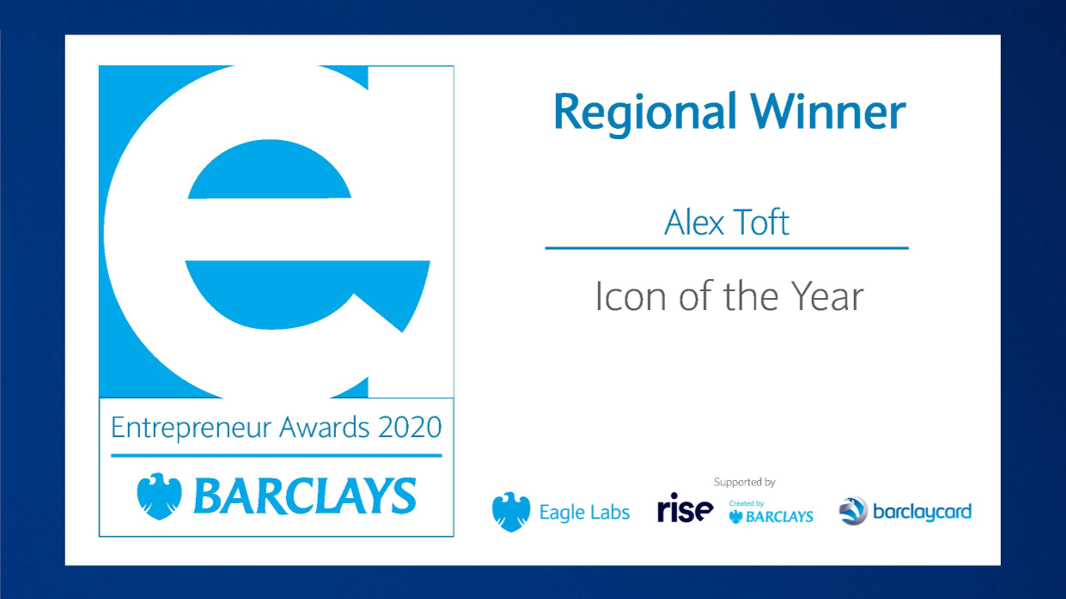 Alexis Toft, Head of Minerva Business Angels, part of the University of Warwick Science Park Ltd based in Warwickshire, has received the accolade of the Regional Icon which seeks to recognise an individual who is a local thought leader of influence who actively contributes to the development of the local entrepreneurial ecosystem and is an example for others to follow.
Alexis Toft, as Head of Minerva Business Angels, has created one of the UK's most dynamic angel syndicates, growing it across the Midlands into London and Merseyside. In doing so he has helped form the largest syndicated angel network in the UK. Minerva has supported now almost 100 companies raise over £63mn. Alexis is an active proponent of the "levelling up agenda" and has initiated various initiatives to stimulate and unlock private capital engagement/investment.
Alexis Toft, Head of Minerva, said: "It's an honour and a privilege to be recognised by Barclays in such away. This award together with Barclays support helps raise our profile, acknowledges the work we do, and helps us on the journey to build an ecosystem to support businesses, create jobs and build the businesses of the future."
Juliet Rogan, National Head of High Growth at Barclays, said: "It's been a difficult time for businesses due to the coronavirus outbreak, which is why it's more important than ever we celebrate entrepreneurs and recognise their achievements. The awards are a celebration of the exceptional innovation and leadership entrepreneurs show, helping to create social change and growth. This is the fifth year of the awards and as a regional winner Minerva Business Angels will go forward to the national stage, which will recognise businesses from across the UK."
Professor Simon Swain, Vice-President for National and Regional Engagement at the University of Warwick commented: "I'm delighted to congratulate Alexis on his success and for being recognised as one of our region's leading entrepreneurs. Since 1982, the University of Warwick Science Park has provided an attractive, well equipped environment for knowledge and technology based businesses to grow and provide economic support to our communities – and we greatly look forward to congratulating Alexis on his forthcoming national success".
All regional winners will now go through to the national final, where an overall winner will be announced on November 26th, 2020. Ahead of the final, national judging will take place with key industry leaders, influencers and eco-system partners in order to select the eventual winner.
The awards bring the full entrepreneurial community together. This year, for the first time, Barclaycard are joining the event alongside Barclays Rise and Eagle Labs as partners of the Awards. This group wide initiative started five years ago and forms an integral part of our support for entrepreneurship across the bank.
Alex has also been nominated for the People's Choice Award which will be decided through a public vote. Votes can be cast online until Thursday, 1 October 2020 at 5pm.