July 17, 2020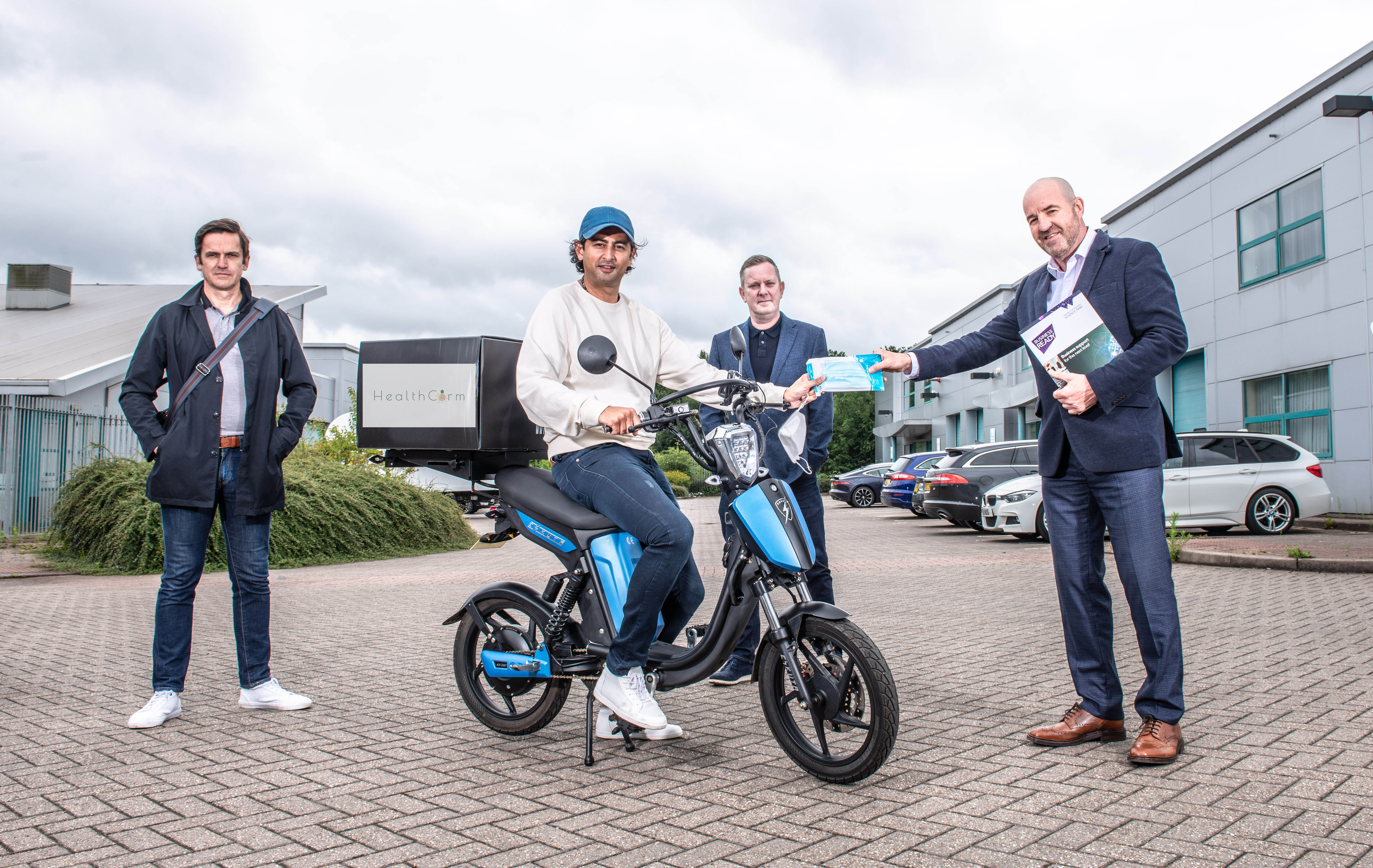 A Warwickshire businessman has received vital support to help set-up a social enterprise supplying PPE equipment, motivated after his brother contracted Covid-19 at the start of the pandemic.
Caption: Paul Walker, of Business Ready; Harris Qais, of Healthcorm; Ian O'Connor, managing director of Eskuta; and Ian McFarlane-Toms, of Business Ready
---
Harris Qais, from Tanworth-in-Arden, has launched HealthCorm Ltd which supplies PPE (personal protective equipment) to businesses and organisations including NHS trusts, care homes, dental care groups and hair and beauty salons.
The business is a social enterprise – which exists to benefit the community – and not only supplies PPE at a reasonable price, but also donates it to small local businesses to support them as they re-open in a bid to help boost the economy.
Harris was inspired to help out after his oldest brother Wais Qais contracted Covid-19 at the start of the pandemic and he began hearing stories about the lack of PPE available and extortionate prices.
Having experience in logistics through his company King of Saffron, a business that is aiming to change the lives of women farmers in Afghanistan by importing their Saffron into the UK and across the globe, Harris decided to look into importing PPE to help support the community.
He sought advice from Business Ready, a programme that delivers support to expanding businesses which is managed by the business support team at the?University of Warwick Science Park and is funded by the European Regional Development Fund and Warwickshire County Council as part of the CW Business: Start, Grow & Scale Programme.
Business Ready supported Harris in launching HealthCorm Ltd, providing strategic and financial advice to help him set-up and run the business.
HealthCorm Ltd has now secured contracts to supply PPE to businesses and organisations both locally and across the UK, and the business is continuing to grow as demand for the equipment increases.
It has also received support from Eskuta, the largest e-cargo bike brand in the UK, which is based in Nuneaton, and has been helping to store and deliver the PPE.
Harris said: "My brother was the main motivation behind HealthCorm. Thankfully, he has made a full recovery, but when he got the virus, I was constantly hearing stories about the lack of PPE so knew I needed to do something to help.
"I contacted Business Ready with my idea and the team provided me with the guidance and support I needed to set up the company.
"I knew care homes were the most in need, so I began contacting those based across the local area to ask what they required.
"I then began contacting suppliers in China, and although it was a time when the country was upping their border controls, my experience in exporting meant I was able to pull it together and get the stock at the correct prices and quickly.
"The business is growing at a rapid rate and all of the orders we have received following my initial contact to the care homes have been through word of mouth.
"As well as supplying larger businesses and organisations I have also been donating PPE to smaller businesses to support them as they re-open following the lockdown.
"It's been fantastic to work with Eskuta which has been supporting us by delivering some of the donations and helping to store the stock.
"We're really keen to continue supporting the local community and will be importing stock based on demand, for instance as the UK is currently desperate for gloves, we have just closed a deal to import 200 million.
"We also have future plans to manufacture our own masks and have plans to recruit two new members of staff as the business continues to grow."
Ian McFarlane-Toms, who heads up Business Ready at the University of Warwick Science Park, said: "HealthCorm Ltd was set-up just weeks ago and is already seeing a huge amount of success.
"We are very pleased to have helped set-up a social enterprise which is not only providing essential PPE supplies but also supporting local businesses with donations."
Warwickshire County Council leader Cllr Izzi Seccombe said: "Business Ready has helped many people turn their ideas and passions into small businesses which become established and grow.
"Healthcorm Ltd is a great example of this and I am delighted that support from the programme has helped Harris to create a fantastic social enterprise which is doing so much good in the community."
For more information on Business Ready and the help available go to https://www.business-ready.co.uk/
Notes to editors:
The CW Business: Start, Grow and Scale project is receiving up to £2.6m of funding from the England European Regional Development Fund as part of the European Structural and Investment Funds Growth Programme 2014-2020. The Ministry of Housing, Communities and Local Government (and in London the intermediate body Greater London Authority) is the Managing Authority for European Regional Development Fund. Established by the European Union, the European Regional Development Fund helps local areas stimulate their economic development by investing in projects which will support innovation, businesses, create jobs and local community regenerations. For more information visit https://www.gov.uk/european-growth-funding