October 23, 2018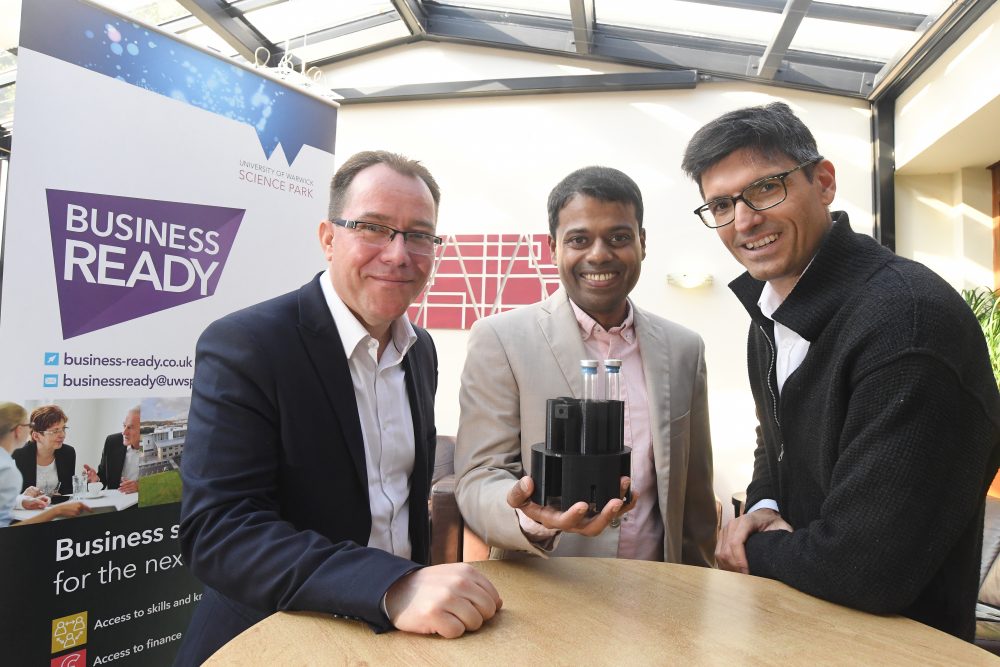 Pictured (left to right): Dirk Schaefer, Dr Kalesh Sasidharan, Professor Orkun Soyer
Two Warwick based scientists have launched a Kickstarter campaign to bring biology to a whole new audience.
Professor Orkun Soyer and Dr Kalesh Sasidharan are on a mission to make biosciences research more affordable for schools, professionals and would-be scientists.
Their University of Warwick spinout business Humane Technologies is based at Warwick Science Park's Ignite incubator, receiving support from the Park's Business Ready support team.
Their first product is an open source MicrobeMeter, an innovative device that allows users to continuously analyse the cultivation and growth of microbes.
Its parts-cost is around £150, compared to devices used for a similar task that are available for around £1,000.
The pair have set a £20,000 target on Kickstarter to cover production costs and further research into perfecting their first piece of equipment.
This is only the beginning of their ambitious plans, which is to design a range of affordable open source devices that are essential for conducting bioscience research.
Professor Soyer said: "Biology is an area of science that is not as greatly understood as say chemistry or physics, yet it is crucial to everyday life.
"There is a barrier restricting experimentation and discovery within this field and that is the cost of scientific research.
"The technology used by biologists is expensive and hasn't really moved with the times, so we are offering a product here that is cheaper and more modern."
The MicrobeMeter will be available to buy as a ready-to-use device or a do-it-yourself kit, which the user can easily put together.
Another exciting feature of Humane Technologies' work is that the company is taking an open-source approach to developing its products, which means that users can alter the software and hardware easily for their own individual purpose.
Dr Sasidharan said: "We are committed to keeping the cost of our products down to make science accessible and affordable.
"We are also excited to be using open-source materials, which means there is huge potential for Humane Technologies items to be at the heart of massive discoveries for years to come.
"As communities of students and scientists use our equipment for their own purpose, we will be able to grow our collective understanding of biology and improve the world around us."
Humane Technologies is based at the University of Warwick Science Park, whose Business Ready scheme is part of the Coventry and Warwickshire Business Support Programme, which is part-funded by the European Regional Development Fund and Warwickshire County Council.
It has allowed Professor Soyer and Dr Sasidharan to gain crucial access to marketing advice, workshops and financial guidance.
Dirk Schafer, business mentor at the University of Warwick Science Park, said: "We are pleased to be assisting Humane Technologies, who I believe have the potential to positively impact on the world of microbiology.
"Do-It-Yourself Biohacking is one of the emerging technology trends to watch in the years to come and Orkun and Kalesh are hoping to play a big role in that by opening up the market, making it more accessible and influencing the next generation of scientists.
"I would encourage anyone with an interest in the open source movement, bioscience or education to view their Kickstarter campaign."
For more information on MicrobeMeter on Kickstarter, visit https://www.kickstarter.com/projects/160868749/microbemeter-by-humane-technologies