April 24, 2018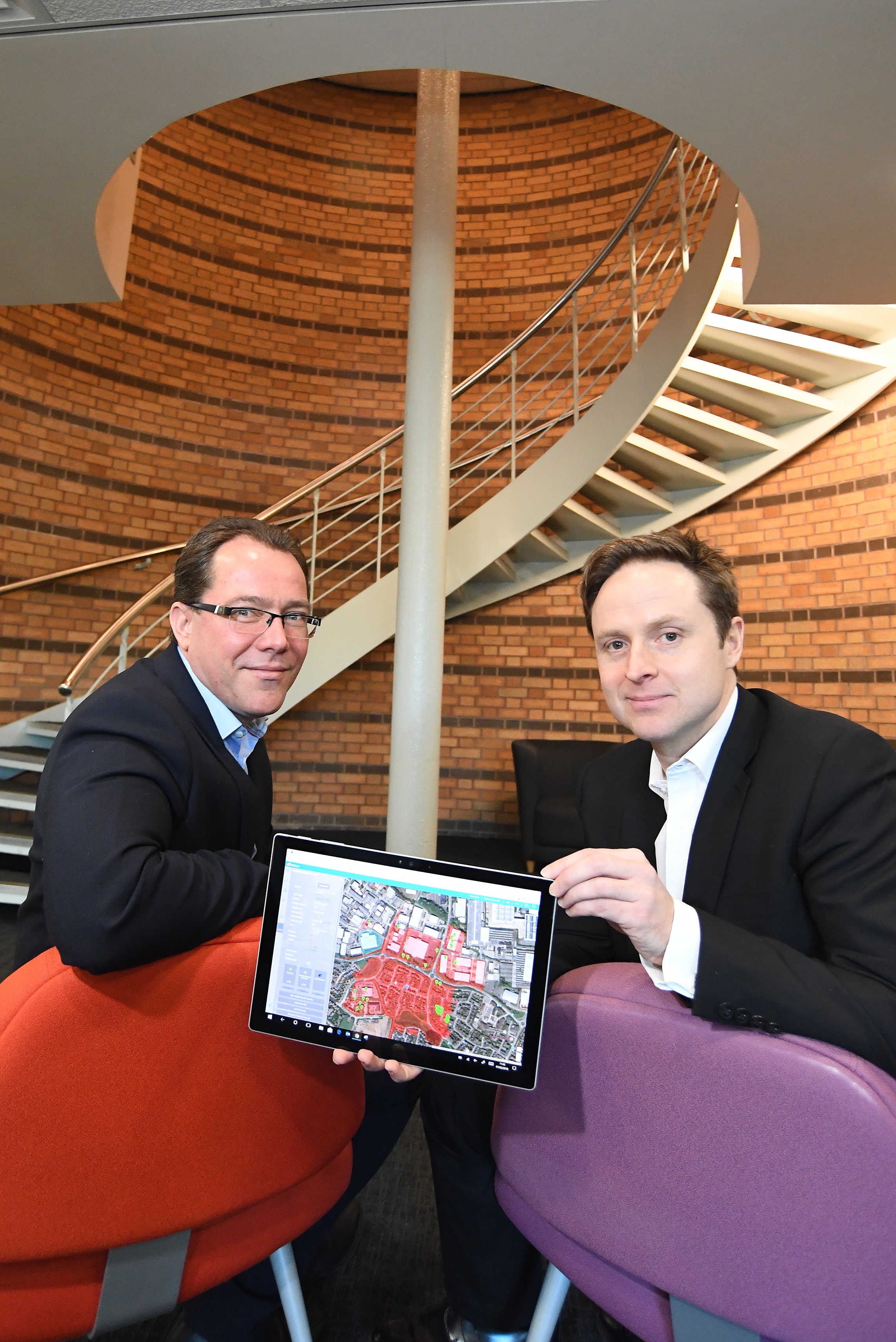 Pictured: Dirk Schafer (left) with Simon Davis
A rapidly expanding Warwickshire technology company, which provides property firms with mapped information on sites across the UK, is on target to hit 100,000 users by the summer after clinching a major contract.
Nimbus Maps, based at the University of Warwick Science Park's Warwick Innovation Centre, spun out of an existing property company when owners Simon and Paul Davis realised they couldn't access up-to-the-minute information on potential development sites.
They developed the Nimbus product which includes current information on commercial and residential sites – from ownership through to planning permissions – and that information is layered onto Google Maps via a mobile-ready platform.
The company has been supported by the University of Warwick Science Park's Business Ready programme which helped to test and refine the product and also assisted with a review of its sales and marketing processes.
Nimbus has since landed leading real estate advisory business, GVA, as a client on a two-year deal and has launched a free-to-use version of the technology.
Barratt Homes and Co-op are also clients and that has seen the company closing in on 10,000 users with a target of 100,000 by the summer of this year.
It also has plans to develop the platform for overseas use but, in order to achieve that and other business ambitions, it will need to raise around £1 million in finance.
"The system holds information on 32 million addresses and 24 million registered titles so if there are development opportunities, Nimbus Maps will be able to let clients know where they are," Simon said.
"In 2017, we tested the market and the feedback from those who used the technology was extremely positive. One senior partner of a large consultancy said he had seen the future.
"So the challenge was finding a way to grow our market and make it the go-to platform for those in the property industry.
"With the help of Business Ready, we took a look at the sales and marketing processes and launched the free-to-use version of the product. We think professionals are more inclined to buy when they understand the technology rather than being hammered with sales calls.
"The free-to-use version of the product is growing daily and we are working very hard to educate users of the benefits of swapping to the paid-for, premium version – and landing clients such as GVA really helps us to do that."
As well as Business Ready support, Nimbus Maps has also benefited by sponsoring two PHD students from the University of Warwick to look into the business's data analytics.
Dirk Schafer, Business Growth Advisor at the University of Warwick Science Park, added: "Nimbus Maps has developed great technology and we are delighted that the support of Business Ready has helped the company to focus on how it will drive interest and sales in the product."
---
Business Ready is delivered by the University of Warwick Science Park and is part of the Coventry and Warwickshire Business Support Programme, which is part-funded by the European Regional Development Fund and Warwickshire County Council.