November 16, 2017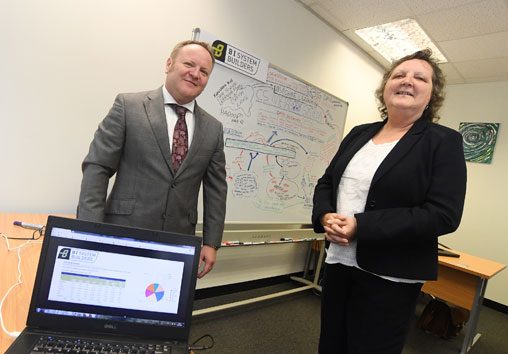 Pictured: Russell Beech (BI System Builders) with Karen Aston (UWSP)
BI System Builders (BISB) is discovering the huge benefits of being based at the University of Warwick Science Park's Warwick Innovation Centre.
Founded by Russell Beech in 2009, the firm designs and builds business intelligence systems across a whole host of sectors.
Since it first started, BISB has worked with a number of high-profile clients including Volkswagen Group, Dixons Retail and Vision Express.
The company has developed the Cornerstone Solution, which is an expert application of BISB's set of services, techniques and knowhow that have been developed over the past 20 years.
The Cornerstone Solution was created by Russell and is a programme that is customised to individual clients that thinks about data governance, data quality and data integration.
"I see BI System Builders as the small company going after big data," said Russell. "That means that through our Cornerstone Solution we consider everything from business analysis and requirements to source system data.
"We can work with clients, big or small, to make sure that their business intelligence project runs smoothly.
"Our process is all about providing valuable and useful information and data for clients to use and analyse."
The company moved into the Warwick Innovation Centre last November and since that time Russell has developed valuable links with the University of Warwick by building relationships and working with the university's careers consultant to discuss setting up a student internship and graduate student programme.
He also led a lecture in The Oculus building at the university to first year Computer Science students entitled 'Business Intelligence and Data Warehousing as a Vocation'.
Russell added: "Being based at the university's science park has provided invaluable links and it is something that I will strive to continue.
"Karen Aston, who is the centre manager at the Warwick Innovation Centre, was instrumental in helping me and the University of Warwick forge fantastic links.
"This is what the University of Warwick Science Park centres are all about, it's not just about having a base, there is advice, help and networking opportunities available for everyone."
Karen Aston, centre manager at the Warwick Innovation Centre, said: "BI System Builders has been a great addition to our Warwick site.
"I am so pleased with how Russell and the company has fitted in with the innovation centre and we were only too happy to help build links between the company and the university.
"Our centres are not just here to provide a home for companies, we can offer a wide range of support services to benefit all."
For details about the University of Warwick Science Park and its services visit www.warwicksciencepark.co.uk.